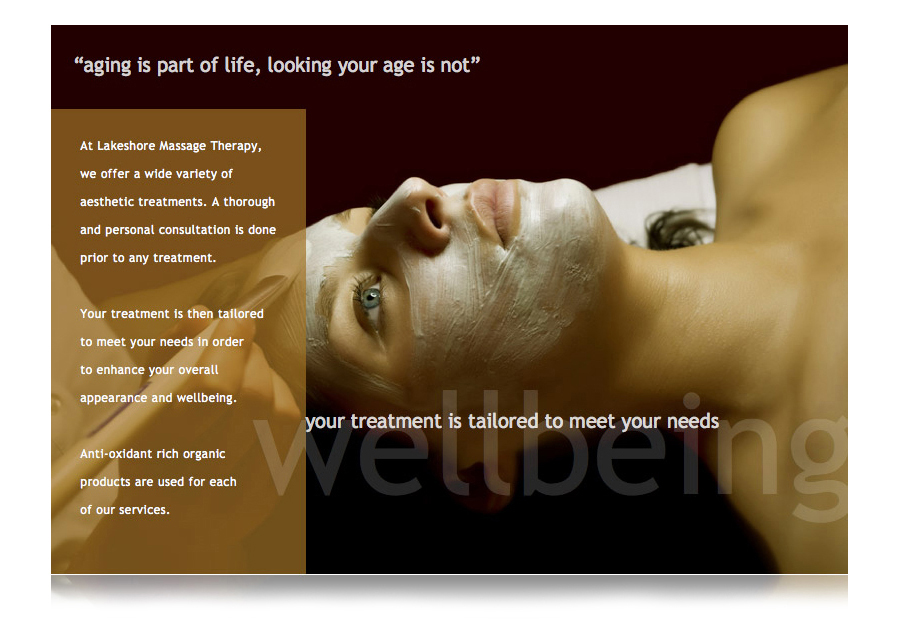 Esthetic Treatments
FACIALS
Life is hard on our skin. Harsh weather, pollution, sun damage and stress all take their toll. We can't avoid exposure to these elements or aging, but we can care for our skin. Our facials are more than just beauty treatments. Each one supports the skin's natural functions to promote regeneration, stimulate repair and restore balance levels. Each facial includes a personal consultation with a highly trained experienced esthetician who will ensure you get the treatment best suited to your needs. Whether you have acne, mature skin or even the most sensitive rosecea skin we will customize each facial using our unique organic skincare products to suit your needs and unveil beautiful glowing skin.
CUSTOMIZED BODY WRAPS
Each wrap is customized to address your individual needs using an Eminence Organic Body Mask. While wrapped, we enhance your experience with a deeply relaxing scalp and foot massage using customized organic lotion. Leave with skin feeling hydrated, radiant, and totally relaxed!

Your choice:
- Chocolate Truffle Hydrating Body Wrap
- Tropical Melon & Blueberry Soy Slimming Body Wrap
MANICURES
All manicures include a warm hand soak, exfoliating treatment, proper filing and shaping, cuticle treatment, hydrating hand & arm massage, finishing with polish.

Treatment Enhancements to Complement your Manicure & Pedicure

• French Polish Application
• Gelish Polish Application
• Paraffin Wax Treatment: Applied to hands and/or feet(Promotes circulation and moisturizes dry skin)
PEDI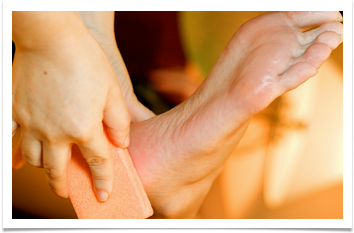 CURES
All pedicures include a warm foot soak, exfoliating treatment, proper filing, cuticle treatment, callus & corn removal, hydrating foot massage, finishing with polish.
PROFESSIONAL FOOT CARE NURSING
Our foot care RPN at Lakeshore Massage Therapy, has been professionally trained to provide high quality, safe foot care treatment to those of all ages, suffering with various health issues, some of which include, but are not limited to:

• Diabetic Care
• Overgrown Toenails
• Ingrown Toenails
• Calluses
• Thick Toenails
• Corns
DEPILATORY WAXING
• Eyebrow (including shaping)
• Upper Lip or Chin
• Cheek
• Chin
• Underarms
• Half or Full arms
• Half or Full legs
• Back
• Chest
• Bikini
• Brazilian

LASER HAIR REMOVAL
Laser Hair Removal at Lakeshore Massage Therapy is the most effective method in permanent removal of unwanted hair. It is a gentle process with amazing results.Treatments are scheduled every 6 weeks. On average, 6-8 treatments are required.
PROFESSIONAL EYELASH EXTENSIONS
Transform your lashes to get the long, lush, and noticeable lashes you've always longed for. By applying one lash at a time to your existing lashes, we can transform your lashes into beautiful longer lashes to enhance your natural beauty. These lashes are semi-permanent, waterproof, sweat proof, and will last the life span of your natural lashes. Great for special occasions or for everyday wear! Offering lashes at varying lengths, thickness's, and curls! We customize the lashes to suite your individual style.
MAKEUP APPLICATIONS
Let your beauty radiate. Complete your spa experience with a customized make up application. Allow one of our Heritage House Health Spa makeup artists to create a new look to accentuate your unique features, update a current look or refresh a new seasonal cosmetic palette. We will create a stunning look personalized to your tastes, and preference.